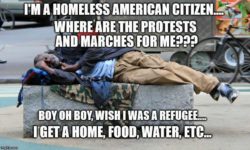 In the week – God, has it seriously only been a week? – since President Donald Trump signed his despicable, potentially illegal Executive Order (EO) kneecapping the refugee resettlement program and temporarily suspending all entry from seven Muslim-majority countries, I've seen a lot people sharing memes, videos, and posts similar to the ones above and below.
These items express faux outrage that refugees, who are apparently storming into this country, according to the Tweeter-in-Chief, are taking food and shelter away from homeless Americans, particularly veterans.
I know I shouldn't treat these entreaties as sincere, because they aren't. Most, if not all, of the people sharing this type of content have never met a refugee. They don't view refugees as human beings worthy of dignity and respect. They instead caricature them, as our President does, as barbarians at the gates who are somehow uniquely violent and dependent.
Because I'm a glutton … Continue reading →