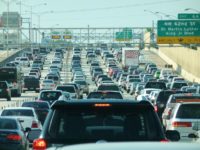 For sustainable transportation advocates, changing people's commuting behaviors can seem like our white whale.
While commutes account for just 19% of total personal trips in the US, they play an outsized role in our transportation system, accounting for 27.8% of total vehicle miles traveled (VMT).
Their timing is also critical. The concept of rush hour revolves around our commute patterns. In cities like Washington, DC and Los Angeles, rush hour congestion can make life hell commuters, costing them time, money, and sanity. But in cities that are not growing and have no real congestion issues normally, these rush hour periods are particularly important.
For a city like Cleveland, commuting patterns directly influence the transportation infrastructure we end up with. The influx of drivers heading to and from work each day provides justification to expand our already overbuilt road system, which has serious impacts on development patterns, travel … Continue reading →