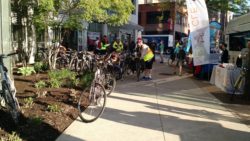 When it comes to mobile emissions, not all bike rides are created equal.
The cyclist who drives her bike into downtown to take part in Critical Mass or rides along the Towpath on a Saturday afternoon does not actually eliminate vehicle miles traveled (VMT) or reduce greenhouse gas (GHG) emissions to any extent. (This is why the National Bike Challenge's methodology tends to irk me).
None of this is to say that these rides are somehow inferior or less than those taken for transportation; they're not. Recreational riding is good for public health, enjoyable, and it increases the number and visibility of cyclists on roads. But it is somewhat disingenuous to claim they improve air quality or mitigate climate change.
How do we calculate the emissions savings from bike projects?
Now, we already know that shifting people from cars to bikes can go a long way towards promoting … Continue reading →